Each year the Euro NCAP awards a select group of vehicles with its best in Class awards. These vehicles are deemed the safest vehicles compared to all others in their respective segments according to Euro NCAP crash testing.
This year, the Euro NCAP has awarded the Jaguar XE with its Best in Class title for the large family car segment.
The Jaguar XE already received the maximum 5-star rating from the Euro NCAP, and that feat is made all the more impressive by the fact that the organization continues to make its tests more intensive each year. For example, this year the full width frontal crash test was added for the first time. The XE passed this test with 5-stars in part due to its light, stiff Advanced Aluminium Architecture and the advanced driver assistance systems.
The Jaguar XE went above and beyond by providing substantial active and passive safety systems, many of which come standard.
Kevin Stride, Vehicle Line Director, Jaguar XE, XF, F-Pace said:
"We set out to develop the driver's car in the segment, but also we wanted to provide outstanding levels of occupant and pedestrian safety. By combining our Advanced Aluminium Architecture with the most advanced technology available we were able to meet all of our targets. The XE has already proven itself the benchmark for vehicle dynamics, and now this Euro NCAP award is recognition that we delivered on safety as well."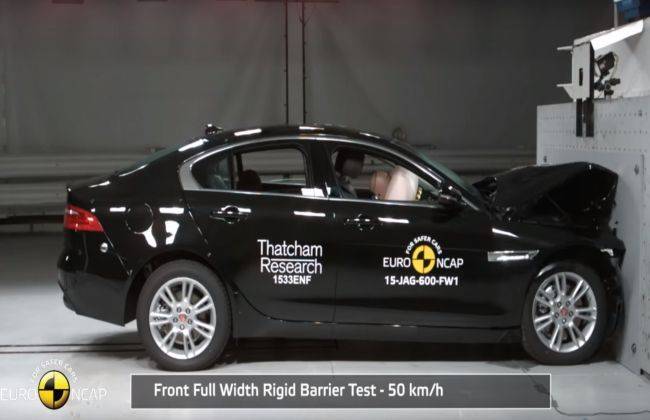 Other areas where the Jaguar XE excelled were Adult Occupant protection, Pedestrian protection and Safety Assist. Technologies like the deployable bonnet and Autonomous Emergency Braking contributed to the model's success.
Michiel van Ratingen, Secretary General of Euro NCAP said:
"Euro NCAP gives top honours to the Jaguar XE which offers the highest levels of occupant protection and avoidance technology, and rewards the XE as Best in Class of 2015 in the large family segment. Euro NCAP particularly congratulates Jaguar for making all important Safety Assist features standard equipment."
The Jaguar XE will be making its Indian debut at the 2016 Delhi Auto Expo which opens today (February 5th)!